当前位置:Home > Solution > Integrated wiring solution

返回列表
General office building integrated wiring scheme
Office building integrated wiring scheme
Office building is divided into general office buildings and the administrative office buildings.

General office buildings
General office building of information application system configuration, should meet the general office building office business operation.Information access systems of all kinds of public information network should be introduced to building office space or office units, and should meet the needs of more operators access.Information network system, when used in the sale and rental office unit time meet tenants or in the use of user demand.
Integrated wiring should be suitable for rental office buildings and private office buildings.
Rental office buildings for determination of the construction scale and engineering implementation of the specific approach:
1) in accordance with the conventional method to predict engineering scale, namely office every 5 ~ 10 square meters width and set up a workspace, each workspace Settings 2 or more information, then according to this basic information point number and the network architecture to consider the whole level of subsystem of equipment configuration and the trunk.
2) due to the rental office blocks the number of users and the possession of the building area of uncertainty, with characteristics, temporary and flowing for temporary rental place, using area wiring to the concept of design.Area can be building column or to rent the minimum area for a wiring project owner.
Design principles
Applicability, this design from the building can provide comprehensive service the basic functions, mainly to meet the needs of the following the items on the wiring system and be able to meet the needs of the future development of network communication technology.
Information comprehensive computer network system
Module telephone exchange network (including voice, fax, x. 25, DDN, etc.)
Office automation network system
Can support a variety of data communication, multimedia technology and information management system, etc., and can adapt to the development of modern and future technology, guarantee 25 years don't fall behind.
Flexibility - the design should be able to meet the functional requirements of various communications equipment inside the building floors in different structures, specific communication subnet;At any point of the building on the ability to connect different types of equipment;Such as computers, telephones, fax machines, printers, terminals, etc.
Scalability - after implementation of the structured cabling system is extensible, so as to have a greater demand in the future is easy to install the equipment.
Modular structure, removed the structured cabling system fixed on the level of the building outside the cable, its all connectors are building block of standard parts, easy to use management and expanded.Can be made in the operation of maintenance work, less spare parts reserve, fault inspection location is fast, simple of operation and management.
Openness that can support any arbitrary network products manufacturer, support arbitrary network structure (main line, star, ring, etc.).
Design basis

Integrated wiring systems engineering design standard GB 50311-2007
ANSI/TIA - 568 - C / 2 American national standards institute (ANSI) the U.S. telecommunications industry association standard
Industry standard YD/communication T926 building integrated wiring system
ISO/IEC 11801:11801 building integrated wiring specification
The EIA/TIA - 569 commercial building telecommunications cabling standard routing

The EIA/TIA - 606 business building telecommunications infrastructure management standard
The EIA/TIA TSB67 business building telecommunications cabling test standard
The EIA/TIA TSB72 concentrated fiber optic cabling guidelines
Demand analysis
XXXX is dozens of modernized comprehensive office building.A total construction area is XXX square meters, mainly including XX, XX floor monomer building more.
As XX modern office building project, the construction of the project has a high requirement, must realize the modernized information management requirements for XXXX, achieve first-class building information management level, so the design construction must be proactive, demonstration, practice and representation.
Demand analysis

1, the office network cable guide information CLP weaknesses well integrated into the X layer rack, after wiring the line into the layers of weak current well.
2, system design, integrated wiring system is responsible for voice and data transmission, and well structured model for integrated management.Data transmission backbone USES the 50/125 multimode optical fiber cable laying and elv well within the metal bridge, horizontal cabling system adopts 6 kinds of unshielded twisted pair, love with star structure cabling system design.
3, book information point design: 1) the office, function room set up double outlet port information.2) line adopts the RJ45 socket 6 types, dark outfit, bottom to 0.3 m.3) system for all devices, equipment, the contractor shall cooperate with the phone telecommunications sector is responsible for the complete delivery, installation and debugging.
Integrated wiring system
Integrated wiring is a kind of modularization, flexibility, high information transmission channels between the building or buildings.Through it can make the voice device, data exchange equipment and various equipment, control equipment and information management system, and at the same time also make these devices are connected to the external communication network integrated wiring.It also includes a network or telecom lines outside the building all cables between the points and application of system equipment and related connection parts.Integrated wiring by different series and specifications of the parts, including: the transmission medium, the related connection hardware (such as the distribution frame, connectors, sockets, plugs, adapter) and electrical protection equipment.These parts can be used to construct various subsystems, they all have their own specific purpose, not only easy to implement, and can smooth along with the change of demand to upgrade.
Therefore, integrated wiring system is a kind of standard generalized information transmission system.
The workspace subsystem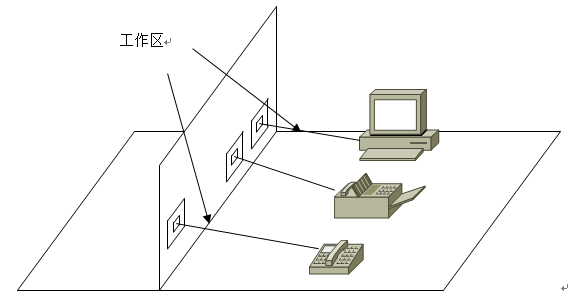 Telecom socket connection level subsystem (TO) and voice or data terminal equipment
Objective: to evaluate the changes of convenient connection to reschedule
Composition: connection jump line and the adapter
The level of subsystems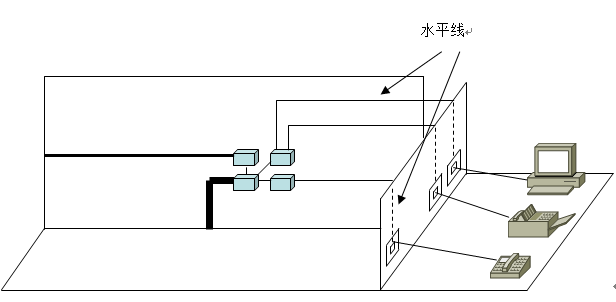 Horizontal subsystem including from the workspace to telecommunications connection between the distance (TC).
Composition: including TO and stretched the socket TO the TC of the transmission medium used.
Star topology structure should be adopted, all the workspace TO connect TO a TC (ER) or a device.
Level the maximum length of the cable is 295 feet (90 meters).
Between management subsystem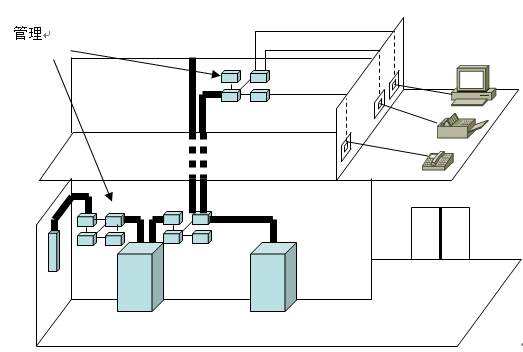 Management subsystem, including connects the two sub-systems or a subsystem for sharing distribution equipment line coupling and interconnection, termination hardware, color coding, numbering scheme and record keeping.
The vertical subsystems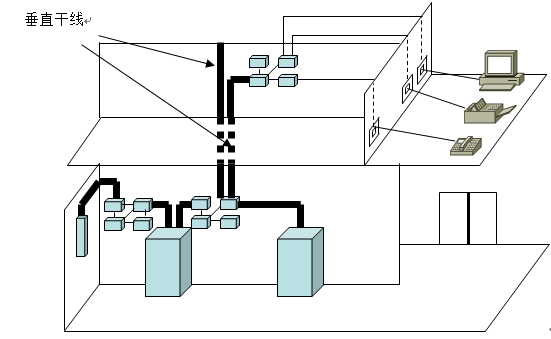 Connection between telecommunication wiring and equipment areas, the realization of communication within the building.Provide the building's main (feeder) part of cable routing.
Composition: copper and fiber optic cable and connect the cable to the rest of the related support hardware.
Distance: 1. The voice level UTP cable length of 2624 feet (800 meters) 2. Data super five, six cable length of 295 feet (90 meters)
Equipment between subsystems

Equipment between subsystems including sharing common equipment, and connect the device pins on the hardware requirements of transmission medium
Composition: cables, connectors and related support hardware devices in between.
Compound floor subsystem

Cable extension of a building to complex subsystem constructions in other buildings of communications equipment and device.
Composition: including building communication between the transmission medium and support hardware facilities, including copper, fiber optic cable, grounded to prevent the surge voltage of the cable into the building electrical protection equipment.
Into the line between
Into the line between the entrance to the parts of the pipeline building external communication and information, and can be used as entrance and complex wiring equipment installation site.
management
Management to cope with the workspace, telecommunications, equipment rooms, into the line between the wiring equipment, cable, information module and other facilities socket set - patterns are identified and recorded.
Integrated wiring system basic composition


Copper wiring system, channel link, CP link

Product selection and configuration
Workspace subsystem, general office information point panel USES 86 type double orifice plate and single panel (CF8601 / CF8602 - H).Tongfang leadership office, conference room and so on area recommended ground;To ensure the transmission performance, and the active equipment connection jump line seg share 6 classes of jump line.
Horizontal subsystem, data and voice transmission are all made of 6 class 4 of unshielded twisted pair (CC71004), are used to implement flexible use function transformation.
Between management subsystem, data using 6 class 24 mouth unshielded distribution frame (CP21024).Voice level side using 6 class 24 mouth unshielded distribution frame (CP21024), voice trunk side with 110 jumper wire rack (CP110W2-50).By 1 to the duck mouth - RJ45 finished jumper wire across the unshielded 6 class 24 port distribution frame and 110 speech distribution frame.Optical system adopts the seg 24 frame type optical fiber distribution frame, seg LC coupler and seg LC fiber optic jumper and tail fiber finish management between fiber termination;Seg enclosure cabinet with 600 * 600 * 600 (TFJG - 42 u - 606 bm).
Indoor vertical subsystem, data trunk using 12 core multi-mode fiber (FC600-12 mit3), respectively between the building equipment installation to the floors of weak current;Voice trunk using logarithmic communication cable (according to the actual voice point number is optional, 25/50/100).Between the building equipment respectively equipped to management between the floors.
Devices, optical system adopts the seg 24 frame type optical fiber distribution frame, seg LC fiber optic jumper and tail fiber coupler and seg LC complete fiber termination;Voice trunk side with 110 jumper wire rack (CP110W2-50).Seg enclosure cabinet with 600 * 600 * 800 (TFJG - 42 u - 608 bm).
Complex subsystem, data between each building backbone seg outdoor 24 core multi-mode fiber (FC610-24 sov), voice trunk with 50 or 100 of seg outdoor multi-cores cable.
 among various buildings of equipment suggested Settings on the first floor.
Integrated wiring point table and listing seg wiring product parameters
The workspace subsystem
The wall type stand-up, double panel CF8601 - H/CF8602 - H
The flame retardant engineering plastics is better

Beautiful, strong, durable, environmental protection

Bring their own computer phone standard block

Bring their own label, convenient management

Swing door pin

Flame retardant performance accord with UL94V - 0
6 classes of shielding information module (card) up and down CM310G - WH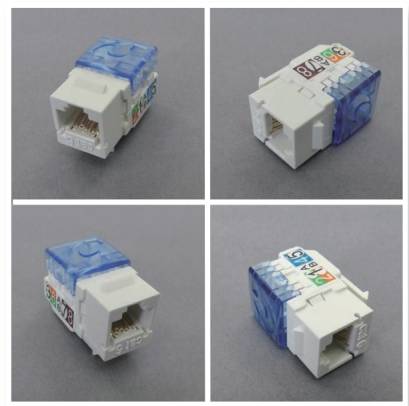 Performance in accordance with ANSI/TIA - 568 - C. 2 standard


General label T568A or T568B wiring

No solder pin technology, green environmental protection

High intensity fire plastic, 22-24 May meet wire gauge

50 mu "gilt, provide at least 750 times repeated plug

Dust cover design style

Beautiful, strong, durable, environmental protection

Working temperature: - 10 ~ + 60 ℃

Flame retardant performance accord with UL94V - 0

A variety of color optional
The level of subsystems

6 class 4 of unshielded twisted pair CC71004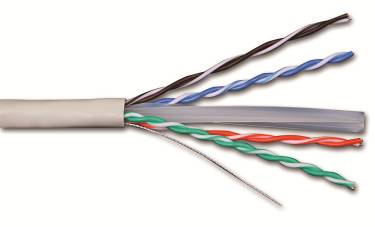 Apply to buildings to cable digital communication level


CLASS E 250 MHZ bandwidth level

Performance in accordance with ANSI/TIA - 568 - C. 2 standard

Physical and mechanical properties:


23 awg wire gauge:

Polyolefin insulation: high density (HDPE)

Outer sheath: polyvinyl chloride (PVC)

Wire diameter: 6.3 + / - 0.5 mm

Cross keel bone core structure: core

Cable color: grey (RAL7035)

Gross weight: 14.5 Kg (305 m/shaft)

The biggest sustain tension: 11.34 Kg

Installation temperature: 0 ~ + 50 ℃

Working temperature: - 20 ~ + 60 ℃

Certification:

The vertical subsystems
Wan Zhao indoor multimode fiber

900 mu m tight set of optical fiber

Fiber core diameter: 50 + / - 2.5 mu m, cladding diameter: 125 + 2.5 microns

Support 10 GBPS transmit 150 m / 300 m / 550 m

Aramid fiber strengthening element

PVC or LSZH sheath is optional

Supporting the construction of backbone network and fiber to the workspace application

The geometry of the fiber good consistency

Aqua skin

Conforms to standard YD/T1258.4
Indoor single-mode optical fiber cable

900 mu m tight set of optical fiber

Fiber core diameter: 9.2 + / - 0.4 mu m, cladding diameter: 125 + 1.0 microns

Aramid fiber strengthening element

PVC or LSZH sheath is optional

Supporting the construction of backbone network and fiber to the workspace application

The geometry of the fiber good consistency

Yellow skin

Conforms to standard YD/T1258.4
Three kinds of indoor to 25, 50, 100 for multi-cores cable
CC10025/CC10050/CC10100

Applicable building voice communication vertical area twisted-pair cable


Performance in accordance with ANSI/TIA - 568 - C. 2 standard

Physical and mechanical properties:


Wire gauge: 24 awg

Insulation: high density polyethylene (HDPE)

Outer sheath: polyvinyl chloride (PVC)

Wire diameter: 11.0 + / - 1.5 mm (25);17.0 + / - 1.5 mm (50);23.0 + / - 2.0 mm (100)

Cab